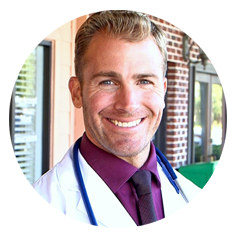 Craig S. Cohen
DC, FNP-BC
Dr. Cohen earned his doctorate of chiropractic from Life University in Marietta, GA. He earned his degree as a Family Nurse Practitioner from St. Joseph's College of Maine in Standish, ME. Dr. Cohen established Inlet Physical Medicine in Murrells Inlet in 2008. He worked as a registered nurse in the ER at Waccamaw Hospital from 2010 to 2012. He has advanced training in rehabilitation and treatment of musculoskeletal injuries. In addition, he has advanced training in joint injection procedures and testosterone replacement protocols. He cares for patients of all ages for both chiropractic and medical needs.
Most Insurance Accepted
We accept many types of insurance as well as affordable self pay plans
Quick Appointments
Contact our friendly staff to schedule an appointment that works with your schedule
Knowledgeable Staff
Our staff of medical professionals have the experience and training necessary to get you back on track
Inlet Physical Medicine
"We take an integrated approach to treating chronic joint and spinal pain. Our doctors have extensive knowledge an experience in working with chronic pain patients to eleviate their pain using the most advanced medical and rehabilitative therapies. We combine medical pain management, with physical rehabilitation and non-invasive advanced joint therapies to help restore patients to the normal activities and wellbeing"
If you're looking forpain relief treatments , Inlet Physical Medicine offers non-invasive medical procedures for a wide range of medical conditions, including chronic pain and joint injury. Our patients can trust Inlet Physical Medicine to help them achieve their wellness goals and find the path to optimal health.
In order to provide relief for a variety of issues, we take an integrated approach to health care that treats patients like whole people rather than a collection of symptoms. For instance, for those suffering from chronic pain, Inlet Physical Medicine works to address the source of your problem, rather than simply treating the symptoms. There's no better place to find answers for conditions that include but are not limited to:
Back Pain
Neck pain
Sciatica
Disc Herniation
Spinal Stenosis
Headaches/Migraines
Knee Pain
Shoulder and Joint Pain
Osteoarthritis
At Inlet Physical Medicine, we provide treatments that our patients can trust. If you're seeking a solution for a medical problem like chronic pain , it's time to call for a consultation.
Get More Information Today!